Content Area
Key resources & tips for the return to university
We have created a range of advanced resources to help you engage and inspire your students for their first day of class, or return to university.
We have a range of downloadable guides to get you ready and supported for your first day of class and beyond.
Downloadable back-to-uni guides
Connect First Day of Class Slides - for Grade
Connect First Day of Class Slides - Not for Grade
Syllabus Guide Connect
Connect through Moodle
MyCanvas -Pairing with Connect through your LMS
MyCanvas -Register for Connect through your LMS
Connect through BlackBoard
D2L Deep Integration - Register for Connect through your LMS
Novice or pro – this is the place for Connect help. So whether you need help creating or modifying a course, we have the resources for you.
7 Steps to Kick-Start Connect
Start the semester off on the right foot, download this guide to learn more.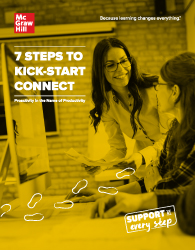 Connect Syllabus Guide
Use this copy + paste guide to get Connect information into your course syllabus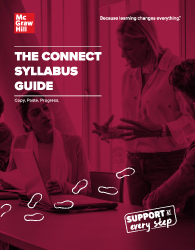 Connect Course Readiness Checklist
Ticking off these essential tasks will give you the best head start before the new semester begins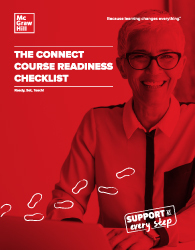 How-To Videos & Resources
These essential how-to videos will ensure you're prepared for the first day of class:
Become an expert at creating and managing Connect Assignments:
Building Assignments Part 1 - Creating Assignments
Building Assignments Part 2 - Setting Policies
Managing Your Roster
Managing Due Dates
Managing Extensions
Assigning SmartBook 2.0
Discover how you can leverage Connect & SmartBook reporting features to get actionable insights into individual student and overall class performance.
Get comfortable with Connect reports and start using them to your advantage:
Harness the power of Connect's adaptive reading and learning tool by effectively using SmartBook or SmartBook 2.0 in your course.
Whether you are moving 100% online next semester, or you will be doing a blended approach, we have the tools for you to succeed. We have been working closely with our Digital Faculty Consultants and academic partners to bring you a series of webinars to get you ready to move your classes online.
Click below to view the webinars by these subjects:
Get personalised 1-to-1 support from your Digital Faculty Consultant. Have a question? Need advice? Want to talk to someone that knows what common obstacles are specific to teaching your course? Whatever you need to ensure you and your students are set up for success, our team of experts, who are educators like you, can help. Our DFCs can help with the following, and more:
The Connect features that will help you achieve your course goals

Aligning multiple course formats

Engaging Students on an online course

Best practices that in your course which will help the semester run a lot smoother
George Hulene
Coventry University, Finance
Bo van der Rhee
Nyenrode Business University, Business Statistics
Caroline Ennis
University of Westminster, Operations Management
Angela Short
Dundalk Institute of Technology, Operations Management
Corrine Berneman
EM Lyon Business School, Pedagogy Coordinator
Mathijs Bergman
VU Amsterdam, Bioscience
What makes our support stand out?
We are fully dedicated to your journey in education and the difference that you can make. This is because we believe that there is no job more important and valuable than being an educator.
In your return to university for the new semester, we want to ensure that you know how to welcome your students into a new digital classroom
McGraw Hill dedicated support
From the first time you use Connect, through to the reports that you access from your student's assignments, we are here to support you 100% of the way. What you can find out from talking with us:
Course design & set up

Instructor training with Connect

First day of class support

Ongoing support throughout the semester
LMS integration

Assignment configuration

Copying your course

and more